As a maker, Paula is interested in creating characters on stage.
Her focus lies on the weird behaviour, the questioned emotions, the absurd intensions. From a dreamy perspective she works on building this one unique character who lives in this one unique world.
Details such as the facial expression are as important as raw and pure movements. She likes to drag the audience into her created universe and through high physicality and detailed performativity communicate emotions and make the spectator feel what the performer feels.
Umgedreht
Production & Performance: Paula Niehoff & Laura Saumweber
Crowdfunding Trailer by: Francesca Karmrodt
We want to bring a moment of cheerfulness,
light-heartedness and colourful togetherness to the people.
We want culture to continue and to flourish in times of social distancing.
The crisis of the corona pandemic affects people at all levels. Under the title 'Upside-down', we want to bring culture to the doorstep of those who are particularly affected by the ongoing contact restrictions: Residents of old people's and nursing homes, patients in hospitals and residential groups in institutions for people with disabilities.
The spatial distance, our new normality with 1.5m distance, is represented during the piece in three circles, which the dancers never leave. They are driven by circular movements that seem to have no ending. Life must go on, even if unusual and unknown directions are taken. Accompanied and guided by the music (composition by Florian Sonnleitner), the two dancers ultimately find themselves in a common form, moving together in a folk-dance-like manner and creating a positive lightness despite physical distance.
We perform this dance theatre in courtyards or forecourts, so that the audience can participate from balconies or open windows. Afterwards, there is a moving interaction with the spectators within the framework of the distance regulations, in order to let the afternoon come to an end together.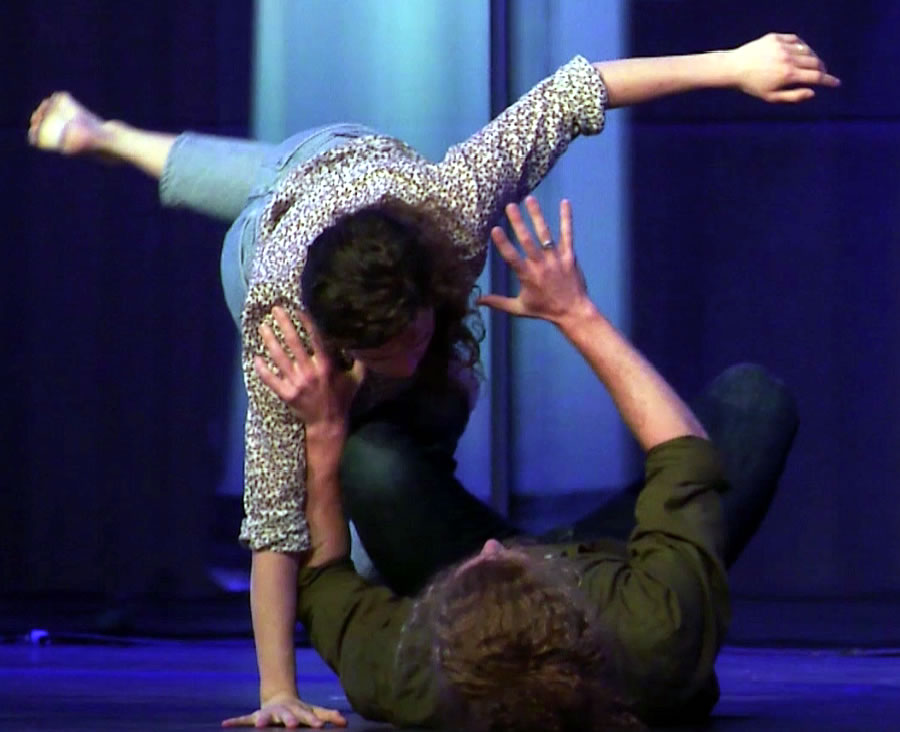 All There is: Dance Performance about non-violent restistance
Concept, choreography and performance:
Paula Niehoff and Alkis Barbas
"All there is" was first performed at the "Bridge of the Future" conference 2018 in Arnhem. Topic of the 2018-conference was Nonviolent-Resistance.
Nonviolent-Resistance does not necessarily have to be passive. This is the message of the choreography
"All there is".
Alkis Barbas and Paula Niehoff translate this message into action. They constantly change roles – violence against non-violent resistance.
In their performance, non-violent resistance is never passive but always an active element.
Lapse of Time
Concept / Management: Paula Niehoff
Music: Tonio Geugelin
Performance: Paula Niehoff, Tonio Geugelin
Film and edit: EM Productions
"Small Talk"
Performance Project for Global Justice and Fairtrade
Concept / Management: Paula Niehoff
Music: Tonio Geugelin

Since march 2018 there is our Fairtrade Song "Small Talk". We want to bring "Small Talk" around the world and with that connect the song to dance and performance.
Modest Forest
Concept and choreography: Paula Niehoff
Performance: Rosy Lupiano
Music Trailer: Tonio Geugelin – Cinematics
Film and edit: EM Productions
This piece was an outcome of Paula's artistic research about "Performativity in dance". With the dancer she searched for the tiny differences that need to happen in the performer's face, in order to change one expressed emotion or intention to another. From this base they generated movement material, always starting with an emotion. The emotion was translated into a facial expression and the facial expression was transmitted into body expression – movement.
Weekly Weadow
Concept and choreography: Paula Niehoff
Performance: Federica Panariello
Film, edit and trailer music: EM Productions
This piece was an outcome of Paula's artistic research about "Performativity in dance".
Paula worked strongly with the personality of the dancer and took it as inspirational base for this piece. Characteristics were transformed, stretched, or exaggerated. The details of the facial expression as well as the initiation of the movements were the leading part in the creation.
In "Weekly Weadow" the dancer "is" the performance. With another dancer, it would be a different performance.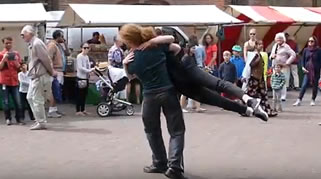 Caffeine
Concept and choreography: Paula Niehoff
Choreography and performance: Gabrielle Aidulis and Alkis Barbas
Paula created the piece "Caffeine"' in 2018 for the dutch festival "Maak kennis op de markt". It is a scientific-research-related piece that played several times on the market in Wageningen and should bring awareness to the university. The research is about coffee grounds and how to use it to grow mushrooms. Paula transformed this topic into a 7-minute duet.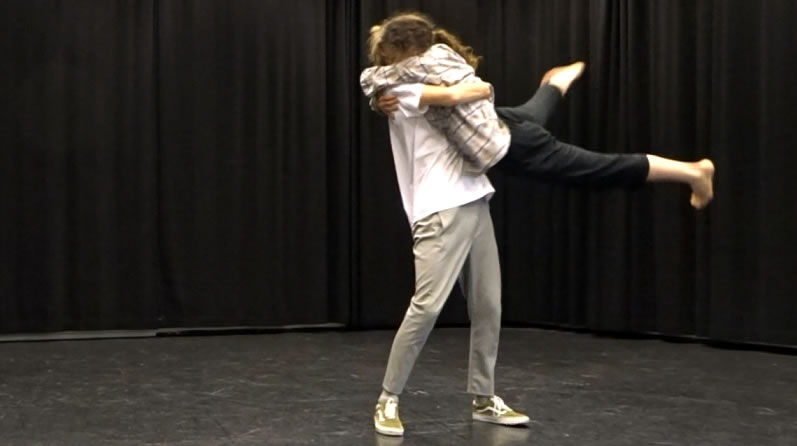 Mazy And The Other
Concept and performance: Paula Niehoff and Michael Muller
"Mazy And The Other" is a physical theater performance and the first collaboration between actor Michael and dancer Paula. Both have a big interest in crossing the line that separates the two professions theater and dance. Their performance is inspired by the movie "Swiss Army Man". In their piece Michael and Paula experiment with how absurd love can be, how you can love and need someone, who does not exist anymore and how your imagination can build a world that only you know and where a body without spirit comes to life again.
First performed at ArtEZ University of the Arts, 2018.
Nuts
Concept and choreography: Paula Niehoff and Manon Adrianow
Performance: Paula Niehoff and Laura Eberstadt
Music: Tonio Geugelin
Film and edit: Lancelot Video
Nuts is a music video for musician Tonio Geugelin's same-named song. The dancers worked in close collaboration with the musician and developed the movements and the song at the same time.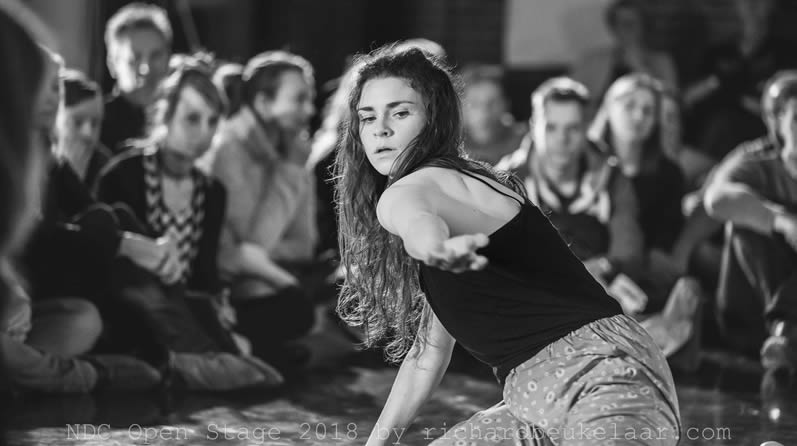 And so it's up to I & I
Concept and performance: Paula Niehoff
Paula's performance communicates the need of not being manipulated and how one can find a way to celebrate life in a world with so many rules and restrictions. She plays with power, with crossing lines just a tiny bit, with making fun of "the system" but all in an appreciative respecing way. This solo improvisation is based on the song "Permanent Holiday" by Mike Love.